Filter Cleaning
Powerwash / jet cleaning of filter walls and floors.
Filtec carry out all power cleaning of filter chambers, under-drains, pipe work, inlet/outlet channels, reservoirs, clarifiers, floc tanks and sludge tanks.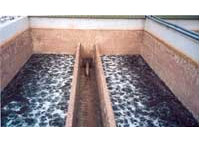 We can, if required, remove and dispose of any sludge from any filter plant using our specialised equipment assuring you that all works are carried out with the utmost of professionalism and with a complete regard to environmental considerations.

Power washing of filter plant allows the underlying status of structures to be made visible. This can prove to be the first line of defence against costly remedial works if problems remain hidden beneath build up.

RGF with slime build up evident on walls and backwash channel.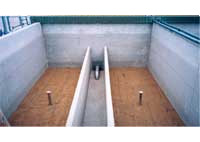 After powerwash and slime removal. A visual inspection revealed minor defects in filter walls which were easily and quickly repaired.