Concrete Floors
New concrete floors laid or repair of existing floors.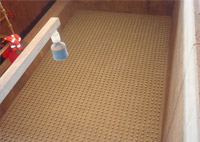 Filtec carry out complete laying of concrete or repairs to existing floors.

Filtec has at its disposal its own concrete pumping and self loading mobile batching plant enabling us to continuously pump and lay the largest of RGF floors.

Repairs to existing floors, whether it's a simple re-grout operation to reseal aged joints or the complete removal of a slab to allow access for removal of migrated media in the plenum chamber, are treated with the same attention to detail and quality as all our other services .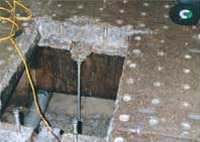 In addition, we also carry out other sundry works including extensions to weir walls and inlet channels.

As part of a re-grouting project, the grout channels are meticulously cleaned to remove any debris ensuring the integrity of the final seal.

Slab removal in a RGF floor to allow access to the plenum chamber. Picture shows chamber after the removal of a large quantity of migrated media.