Endoscopic Surveys
Endoscopic Surveys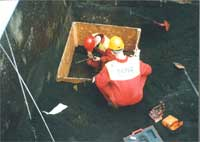 Filtec endoscopic surveys provide a fast, cost effective means of identifying problematic areas within water treatment plant so that, if required, repairs are carried out to identified areas without recourse to expensive investigative works. Our extensive knowledge of water treatment facilities allows us to conduct our surveys with the very minimum of disruption to the filter bed whilst providing you with the detailed information report that allows you to have a full understanding of the status of your installation.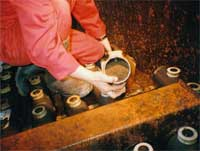 Cast box removed from a Bell Filter due to media blockage which caused the filter floor to rupture.

Box dig through a filter bed ( with media bagged for reuse where required ) allows detailed cross-survey of the status of the bed. Removal of filter nozzles allows access for endoscope to view the status of the under-drains and check for migrated media.

Laterals blocked with filter media which was removed as part of a refurbishment project. Survey conducted after customer observed poor backwash pattern.


Plenum chamber after large quantities of migrated media removed to expose air headers. Note the blocked metering pipe in foreground.